Forming Chords From Scales







by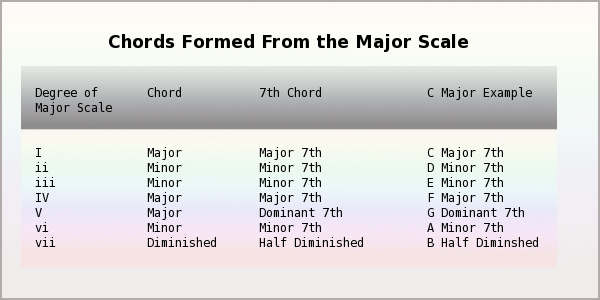 Chords typically occur together in families. There are certain groups of chords that when used together, often sound good.
The most common way of forming families of chords that sound good together is to form a set of chords from a scale. When you do this, you will have a number of chords that all belong to the same key. In this article, I'll show you through how to form a family of chords from a scale.
By understanding this, you will understand why certain chords work well together in a given key and be able to start to see these families of related chords being used in the music you learn.
Lets start by forming triads (three note chords) from a major scale. To make things easy lets use C Major as our scale here.
The notes of the C Major scale are as follows:
C D E F G A B C
Each of the notes of this scale can be used to build a chord on. In order to do this, start at a given note, say C. then add to that note the note that is a third (or two notes) up on the scale. In our example, this is E. Then add the note that is a 5th up on the scale (or moving up another 2 notes from our third). Here we have G.
You can see this illustrated here:
C D E F G A B C
C E G
With these three notes, (C, E and G) we have the C major chord and this is the chord formed from the first note of the C major scale.
We then want to repeat this process by forming chords from each of the other notes of the scale. So we then move to forming a chord off the note D. By moving a third up from D in the C major scale we have the note F and then moving a 5th up we have the note A.
C D E F G A B C
D F A
The notes D, F and A form the D minor chord.
By moving up each note of the scale and forming a chord on the note by adding the 3rd and the 5th from that note in the scale, we form a family of 7 related chords as follows:
C Major Scale Chord Notes Chord
C C E G C Major
D D F A D Minor
E E G B E Minor
F F A C F Major
G G B D G Major
A A C E A Minor
B B D F B Diminished
When you form the notes of the chord like this, you know if the chord is a major, minor or diminished chord by the distance between the notes in the chord.
A major chord has a major third and a perfect fifth as the intervals from the root note (or the note the chord is based on).
On a guitar a major third is the distance between two notes that are 4 frets apart while a perfect fifth are two notes that are 7 frets apart.
A minor chord is formed from a minor third (notes that are 3 frets apart) and a perfect fifth.
A diminished chord is formed from a minor third and a diminished 5th (6 frets apart).
It is useful to number the notes of the scale. So for C Major, we have the numbering of notes (in Roman Numerals):
C Major Scale: C D E F G A B C
Numbering of Notes: I II III IV V VI VII I
When we number the notes of any major scale like this, we always have the same combination of major, minor and diminished chords formed from the scales as follows
Notes of the Major Scale Chord
I Major
ii Minor
iii Minor
IV Major
V Major
vi Minor
vii° Diminished
Forming 7th Chords from the Major Scale
We have seen above how to form families of major, minor and diminished chords from the major scale. We can apply the same concept to form 7th chords. When you use families of 7th chords, the sound of the chord progression will typically sound more harmonically rich, or interesting.
You form a family of 7th chords in the same way we formed the triads above, however, as well as adding a third and a fifth to each note of the scale, you should also add a 7th as well. The 7th will be the note that is two notes up from the 5th in the scale.
So to look at a few examples in C Major. Forming the 7th chord from the note C you have:
C D E F G A B C
C E G B
C Major 7th chord
Forming the 7th chord from the note D, you get
C D E F G A B C
D F A C
D Minor 7th chord
Forming the 7th chord from the note E, you get
C D E F G A B C D
E G B D
E Minor 7th chord
and so on.
When we form 7th chords on each note of the c major scale, you get
C Major Scale Chord Notes Chord
C C E G B C Major 7th
D D F A C D Minor 7th
E E G B D E Minor 7th
F F A C E F Major 7th
G G B D F G Dominant 7th
A A C E G A Minor 7th
B B D F A B Half Diminished
And when we base this on the numbering of the scale, for any major scale we will have:
Degrees of the Major Scale Chord
I Major 7th
ii Minor 7th
iii Minor 7th
IV Major 7th
V Dominant 7th
vi Minor 7th
viiø Half Diminished
We have seen here how to form chords from the major scale. The same concept can be applied to any diatonic scale (7 note scale) such as the harmonic minor scale, the natural minor scale or the various modes of the scales.
The method to do this is the same, you simply have a different set of notes in the scale that you are forming chords from and using to form your thirds, fifths and seventh notes for each scale tone.
When we devote an article to a given scale we will often outline the set of chords that are formed from applying this method to the scale being discussed.
As well as the major scale shown here, you can see the results of applying this method in such articles as our page on the natural minor scale.
Exercise to Help Your Understanding
If you would like to improve your understanding of this concept, I recommend to take a look at the chord progressions in the transcriptions of some of our major scale backing tracks and natural minor scale backing tracks. As you do this, work through the progressions and see that the chords from these progressions are from the relevant major for natural minor scale for the backing track.
Some of the chords here won't simply be triads or 7th chords but may contain 9th, 6th, etc, but you should still be able to see that the notes of the chords come from the scale. When you see a chord progression like these formed from a given scale, that is a strong indicator that you can use that scale to improvise and form solos over the chord progression. Listen to the tracks, and this will illustrate how the chords formed from a scale can work together in a family to create a coherent chord progression.







by