by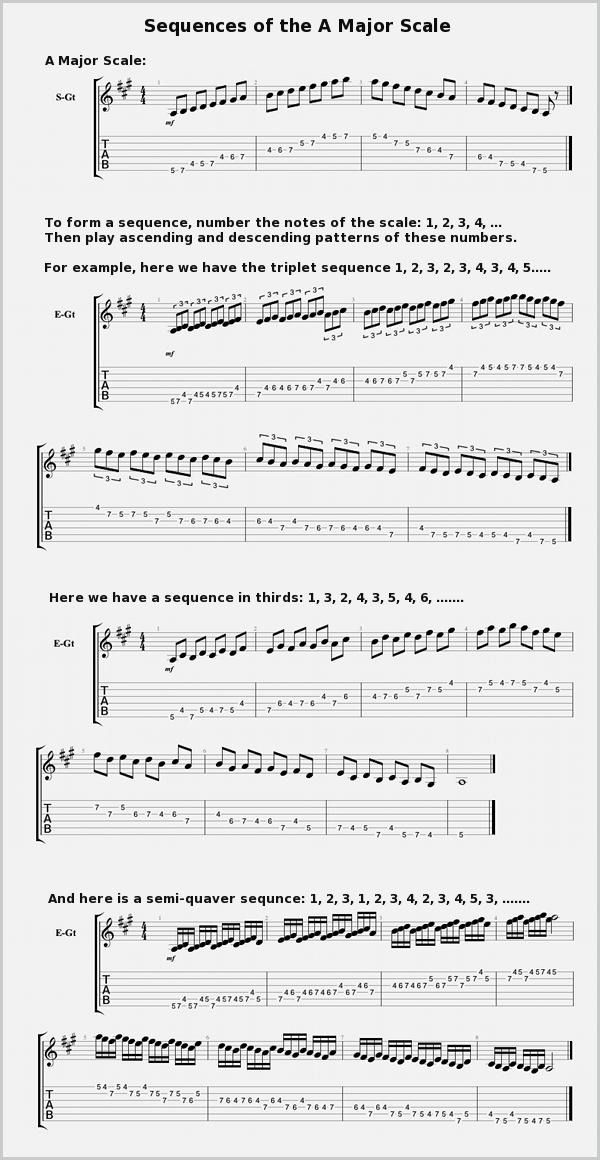 It is common when practicing guitar scales to practice them in a sequence.
To look at a couple of common sequences start by numbering the notes of the scale in ascending order:
1, 2, 3, 4, 5, 6, …..
A sequence is then a repeated pattern of these numbers moving up and down the scale.
Some common sequences of guitar scale patterns would be playing the notes of the scale in triplets as:
1, 2, 3, 2, 3, 4, 3, 4, 5, 4, 5, 6, …..
Or you could practice an interval such as thirds, (commonly played as quavers):
1, 3, 2, 4, 3, 5, 4, 6, ….
There are also a number of 4 note sequences that are common such as:
1, 2, 3, 1, 2, 3, 4, 2, 3, 4, 5, 3, 4, 5, 6, 4, ….
or
1, 2, 3, 4, 2, 3, 4, 5, 3, 4, 5, 6, 4, …..
These sequences would often be played in semi-quavers.
There are several benefits of practicing scales in sequences. When you are practicing a scale, you want both the scale pattern and the sound of the scale ingrained into your knowledge so that you do not have to think about the notes of the pattern when you are improvising.
Additionally, you want to ingrain the sound of the scale such that you can hear potential tones to move to in a solo and intuitively be able to know where you can play that tone in your pattern
Practicing a wide range of sequences for each scale you learn will help ingrain your understanding of both the pattern and the sound of the scale.
Additionally, playing small parts of a sequence of a scale is common in soloing, so by practicing these sequences, you can actually play parts of the exact sequences in your solos.
To help your understanding of these sequences above, you can see the tab of a number of these sequences of the A major scale at the top of this article.
It is also useful to practice your scales and sequences over a backing. This helps you learn the sound of the scale in relation to the sort of chords it may be played over.
You can see our complete set of resources on guitar scales at our guitar scales page.







by